Related Media
Books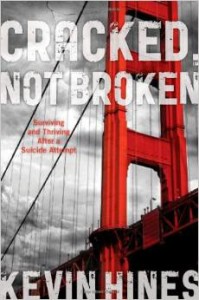 Cracked, not Broken: Surviving and Thriving After a Suicide Attempt – By Kevin Hines
I first read about Kevin's remarkable story a few years ago before a family trip to San Francisco. He is also featured in a three part video series as part of a Youth Mental Health First Aid course provided by The Avielle Foundation in Newtown, CT. He took time, in between his busy public speaking schedule to come and speak in Newtown. He and his wife are remarkable people with a compelling story and no doubt are saving lives and helping others understand how they too can live with and even thrive with a brain illness. If you are interested in hearing or booking Kevin to speak, you can contact Wolfman Productions.
Amazon.com summary: The Golden Gate Bridge is one of the most recognizable structures to define a modern city. Yet, for author Kevin Hines the bridge is not merely a marker of a place or a time. Instead, the bridge marks the beginning of his remarkable story. At 19 years old, Kevin attempted to take his own life by jumping off the Golden Gate Bridge – a distance which took four seconds to fall. Recently diagnosed with bi-polar disorder, Kevin had begun to hear voices telling him he had to die, and days before his attempt, he began to believe them.
The fall would break his body, but not his spirit. His story chronicles the extraordinary will of the author to live mentally well in the face of his mental illness: bipolar disorder with psychotic features. With each mental breakdown, however, the author's desire to live mentally well– and to be a mental health advocate– pulls him from the depths of his condition. Kevin's story is a remarkable testament to the strength of the human spirit and a reminder to us to love the life we have. His story also reminds us that living mentally well takes time, endurance, hard work, and support. With these disciplines in place, those living with even very difficult diagnoses can achieve better lives for themselves and those who help to support and care for them.
---

How Long Will I Cry?: Voices of Youth Violence – Edited by Miles Harvey
In 2011 and 2012, while more than 900 people were being murdered on the streets of Chicago, creative-writing students from DePaul University fanned out all over the city to interview people whose lives have been changed by the bloodshed. The result is How Long Will I Cry?: Voices of Youth Violence, an extraordinary and eye-opening work of oral history.
Told by real people in their own words, the stories in How Long Will I Cry? are at turns harrowing, heartbreaking and full of hope.
"It's the power of what follows here, the frank and often profound reflections of those who have been there, of those who have lost. In their words, often philosophical and poetic, they move us to see what they see and to hear what they hear. They make us all feel less alone."
—Alex Kotlowitz, bestselling author of There Are No Children Here and co-producer of the award-winning film The Interrupters
---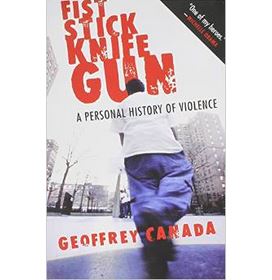 Fist Stick Knife Gun: A Personal History of Violence – by Geoffrey Canada
Amazon.com summary: Long before the avalanche of praise for his work—from Oprah Winfrey, from President Bill Clinton, from President Barack Obama—long before he became known for his talk show appearances, Members Project spots, and documentaries like Waiting for "Superman", Geoffrey Canada was a small boy growing up scared on the mean streets of the South Bronx. His childhood world was one where "sidewalk boys" learned the codes of the block and were ranked through the rituals of fist, stick, and knife. Then the streets changed, and the stakes got even higher. In his candid and riveting memoir, Canada relives a childhood in which violence stalked every street corner.
---
Movies

New Orleans, Louisiana has one of the highest per capita murder rates in the United States. For the last decade, statistics have shown murder rates four to six times higher than the national average. Eighty percent of the victims are black males, mostly in their teenage years. This is the city's greatest neglected crisis with profound implications for the issues of violence and crime most American cities face. New Orleans government, law enforcement, community leaders, and well-intentioned citizens cannot agree on a prognosis or a solution to this situation. Wherever a disagreement is escalating into violence, an execution is being planned, or a victim is taking his last breath, it is more than likely a youth is witnessing or carrying out these actions. SHELL SHOCKED attempts to bridge the gap of this disconnect by hearing the ideas, opinions, and testimonies from activists, community leaders, police, city officials, youth program directors, family and friends of victims, and the children who live in these violent circumstances. We are looking for positive solutions to an extremely negative situation.
---

From producer/director Steve James and author-turned-producer Alex Kotlowitz, The Interrupters tells the moving and surprising story of three "violence interrupters" in Chicago who with bravado, humility and even humor try to protect their communities from the violence they once employed. More about the film.
The Interrupters can be watched on PBS Frontline here.